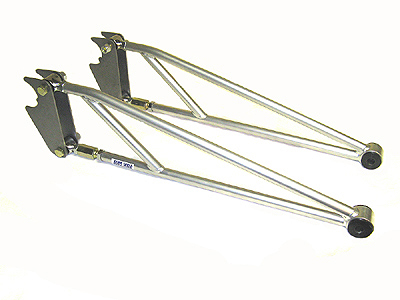 SPECIFICATIONS:


Auto Weld's Pro Street Ladder Bars are made from 1x.156 DOM steel tubing with chrome plated/poly bushed rod ends in rear, special heavy duty poly bushing in a heavy duty sleeve up front that accepts a 3/4 bolt, an Auto Weld exclusive, 3/16" thick double shear axle brackets,
grade 8 bolts/nylon lock nuts,
the special parallel rod end position in
the rear makes them fully adjustable
and are "007 silver" powder coated.
They measure 33" from center of axle to
center of front bolt.
(double adjustable shown above)




**
** Pro Street Ladder Bars- 33" (dbl. adjustable)
Part#2001 ... $411.95






A ladder bar suspension is a fine low-cost hard-reacting suspension that is great for drag racing, but for street use it can be a high-maintenance, rough-riding, ill-handling suspension. One of the main characteristic problems with using Competition ladder bars on the street is due to the fact that they do not allow the rear axle within to twist. This action is locked out in the design of the mechanism. A good example of this twisting action is when you pull your vehicle up into a gas station or a food mart. Your suspension has to soak up the difference between the heights of the road surfaces. In some places this offset is severe. In the design of an automobile the manufacturers go to great lengths to make a suitable suspension that soaks up all road irregularities.

However, if Competition ladder bars are installed on a vehicle, your vehicle is either going to try to lift one of the front tires off the ground or the ladder bars, brackets, or both, are going to twist and possibly bend.There is also a possibility of the bracket welds developing cracks if not properly braced, not to mention the strain put on the frame and the rest of the vehicle.The problem continues when coming into contact with a bump or pothole. Since the twisting action is locked out, the tire will make contact with a bump, and then send a
jolt through the vehicle via the ladder
bars as in (FIG.#1 shown below). In a lightweight street rod this can result in a thrashing-like ride. Eventually something will give.

This is why AUTO WELD developed low-cost, new generation ladder bars for Pro-Street use. On our new generation ladder bars we put a heavy duty urethane bushing in the front with a heavy duty outer sleeve welded directy to the ladder bars for extra strength. The bushing has an inner steel sleeve, which accepts a drag legal 3/4" bolt, (an Auto Weld exclusive!!). Stainless steel or Chrome adjusters and double shear plates finish up the back. The flexibility of the urethane bushing allows the rear to twist and float slightly to soak up road irregularities and bumps as in (FIG.#2
shown below) for a better handling, quieter,
maintenance-free ride that is still able to supply the necessary traction. 100's have been sold. They are perfect for and have seen low 9 second wheel standing runs.
OUR PRO STREET BARS ARE FULLY ADJUSTABLE TOO!!!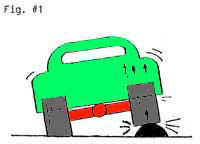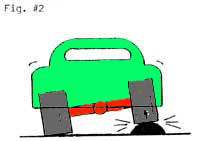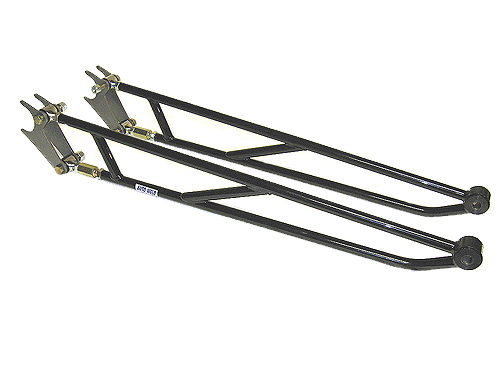 SPECIFICATIONS:

These ladder bars are perfect for your Nostalgia projects and street rods!! A neat way to build a hot rod or Pro Street car for that traditional look. They are 45" long from center of axle
to the center of front bolt.
***
Features as follows:
*1x.156 DOM steel tubing bodies
*Chrome plated/poly rod ends
*1/4" double shear axle brackets
*Heavy duty welded sleeve in front
w/poly bushings and steel sleeve
that excepts a 3/4" bolt (std)
*Shiny black powder coated.
*grade 8 bolts w/nylon lock nuts
*Fully adjustable
***
(double adjustable only)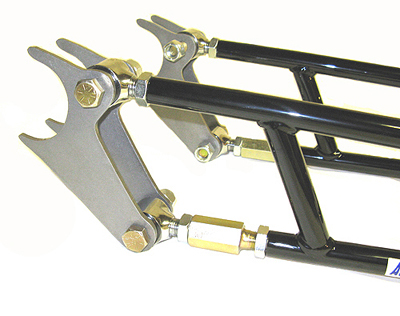 SPECIFICATIONS:


Made from 1" x .156 DOM steel tubing. Solid rod ends in rear, spherical rod ends in front, safety girdle standard, 3/16" double shear axle brackets. Grade 8 bolts/nylon lock
nuts included. Ladder bars are
bright yellow powder coated as well.
(double adjustable shown below)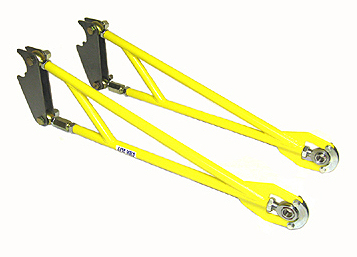 DOUBLE ADJUSTABLE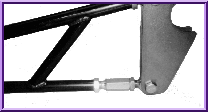 ** Comp. Ladder Bars w/Standard
rod ends 32"
Part#2008...$391.95
**
** Comp. Ladder Bars w/Chromoly
rod ends-32"
Part#2009...$411.95
**
** Comp. Ladder Bars w/Standard
rod ends-36"
Part#2010...$391.95
**
** Comp. Ladder Bars w/Chromoly
rod ends-36"
Part#2011...$411.95