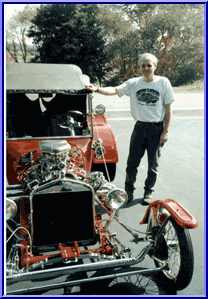 Auto Weld Chassis and Components is a manufacturer of Race Car, Pro Street and Street Rod chassis & components. We have over 40 years experience!! All of our products are made of the finest quality materials available. All of our products have been race proven time and time again in real competition.
So get "Hooked" on Auto Weld Chassis & Components and DARE TO COMPARE!
Our Mission
Auto Weld's key objective is to integrate consumer needs with our excellent reputation and, in the process, produce a product that exceeds the expectations of both parties. Auto Weld manufactures race car chassis and components for a well-established and constantly growing worldwide customer base. Auto Weld is vertically-integrated, meaning most products are manufactured in-house. This development process ensures higher levels of quality than our competitors and it also means that YOUR orders are subject to a wider variety of custom specifications!! So soup up that prized vehicle and have it done the RIGHT WAY with the RIGHT PEOPLE. !! AUTO WELD !! CHECK OUT OUR CURRENT PRODUCTS PAGE!! –And see what we can do for YOU!