Your kit ,works great, brought a 8 point cage, and the sub fame kit , weld in and remove the rest. My car ran 10.16 et, 60 ft 1.36 at 131.0 mph, small engine by today standards 454 .030 with a DH solid roller street cam, 14×32 x15 tires, 4.88 rear gears, car weight with driver 3450, with a 350 BTE trans, 5000 stall. I
greatly appreciate the seeing my car in your gallery. I still have the car, I just up graded engines, a Steve Schmidt 565. Will send u new pictures.  You can call me any time, I am retired now, I am 72 years old. thank u for such a good chassis, will be calling for more parts.
b
Walter I Banks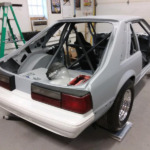 I have been purchasing parts from Auto Weld Chassis for more than twenty-five years. I have used their rollbars and cages, subframe connecters, mini-tubs, coil- over kits, four link suspension, and frame rails. The weld quality is second to none, and the custom bent frame rails are accurately shaped and wrinkle free. They have built custom rear axle housings for my Mustang, Falcon, and Ranger pickup. They are perfectly straight, super strong, and fit perfectly. In addition, I have gotten expert advice about installation tips.
Thomas Dahlmann
Auto weld built my rear 4 link chassis for my 2000 S10, it was perfect when it was delivered (to Nashville) and the install was simple and easy.
I would recommend, and have, this company to anyone. From the initial phone call, they walked me through all the necessary technical specs needed
to accurately order the frame I needed. After seeing the "NAPA" I knew they were the ones to build my frame.
Thanks
Terry
Terry Lesperance