55-56-57 CHEVY
***NEW "LADDER BAR" CHASSIS***
What you are about to look at is our
"NEW" version of our popular 55,56,57 Chevy chassis made from our typical mandrel bent 2×4 box steel tubing. It has enhanced rigidity and enhanced geometry. We build these chassis for most kinds of popular rear suspensions. Shown is our "Pro-Street" ladder bar suspension.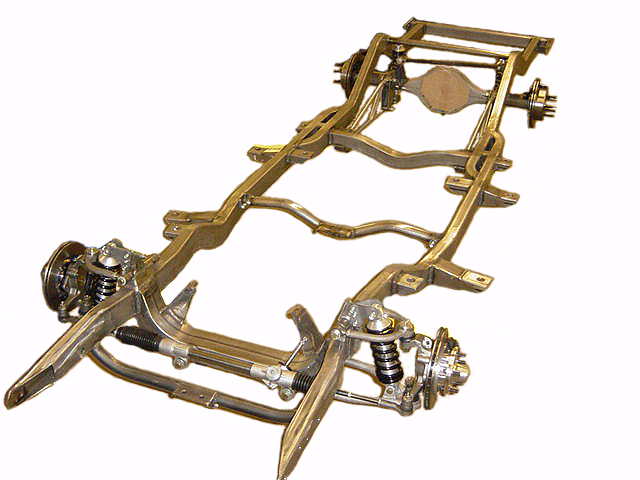 Our typical front suspension design for most of our 2×4 chassis. We manufacture the typical 58″ wide as shown here. But also the popular 56″ and even a wide 60″ for certain applications.
***
It features about five degrees positive caster to start with, good anti-dive, and zero bumpsteer.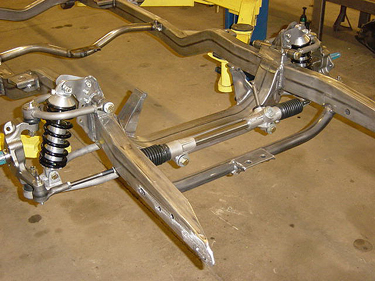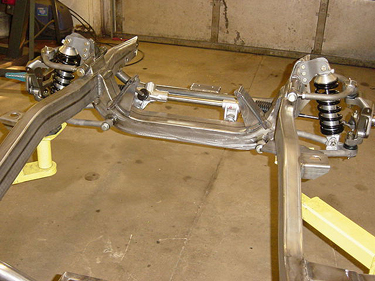 Above….Back of front suspension. Shown are the motor mounts for the small block Chevy and Turbo 350.
Below….notice the optional adjustable coilover
mounts and the Aldan racing coilovers used here.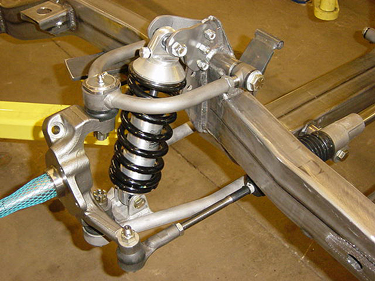 Shown below is the weld quality that is typical at AUTO WELD. Inside this area is a steel structure that greatly enhances the rigidity of the front
suspension positions.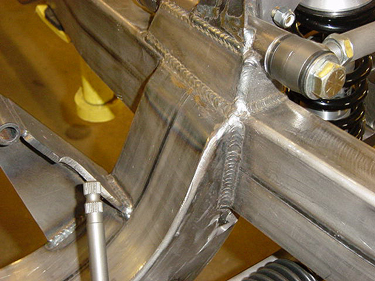 Transmission crossmember shown below. Notice how it is raised above the top of the frame. It actually hugs the floorboards without touching.This is for extra exhaust room.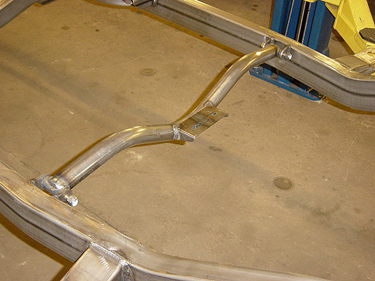 Rear suspension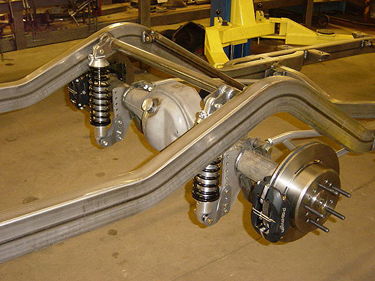 Front Ladder bar mounting. Notice
the trick looking double frame. These types of additions make for an award winning car!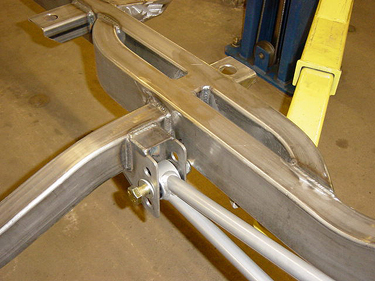 Another example of weld quality. Simple and Clean!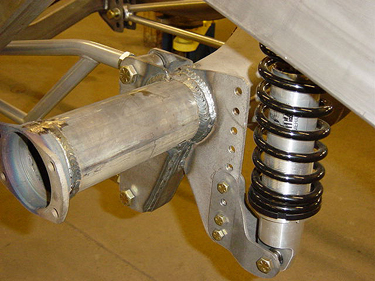 Shown is the quality of our mandrel bending. We at AUTO WELD have invested a great amount to provide you with the nicest bends that you will find anywhere!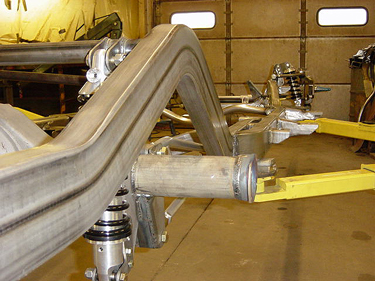 ***BODY ON CHASSIS***
Shown below is a test fit to show how our frames meet up with a stock '56 body shell.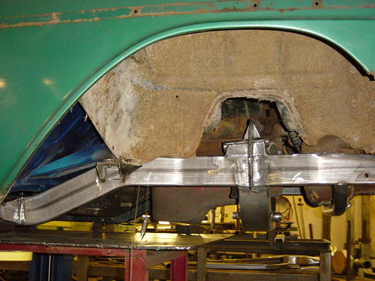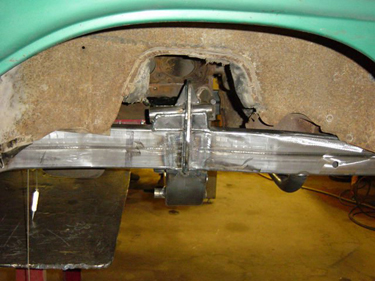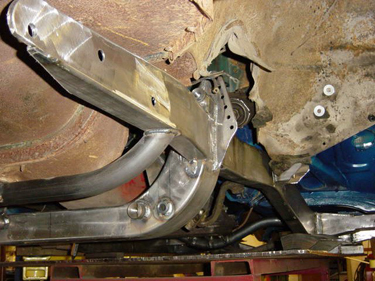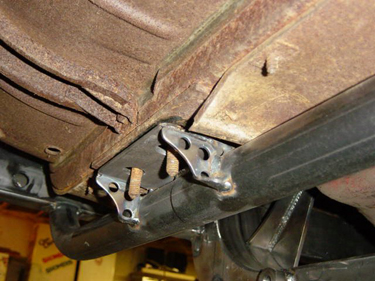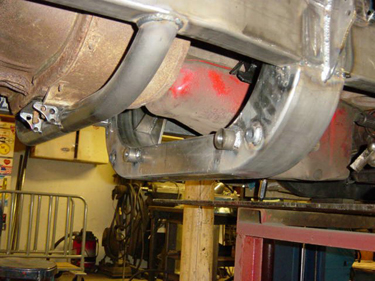 Now to the back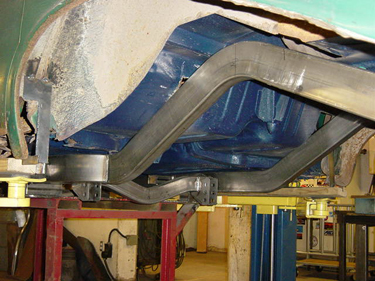 Since this particular chassis was built to use bigger tires…the body mounts were cut out and will have to be moved.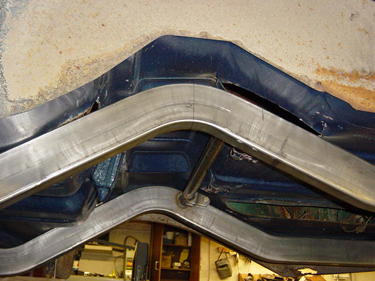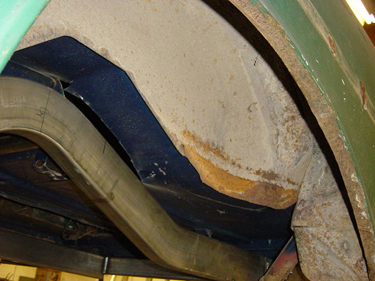 With the frame being narrowed, it makes an 18 1/2″ hole (from fender lip to frame). Mini tubs or full size tubs are needed now.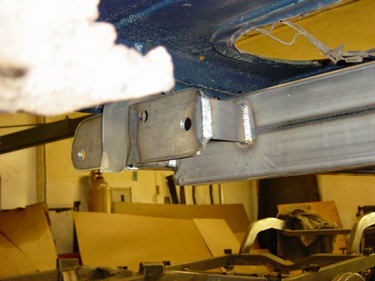 Rear bumper mount shown above.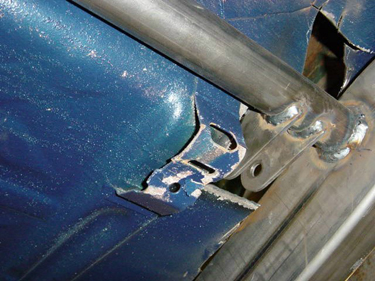 ABOVE…on this project..the coilover mount is inboard because of narrowing the rails. Some mods to this area are needed.
***
BELOW…..shown are the body mount areas. They are not hooked up at this time because of this being only a test fit.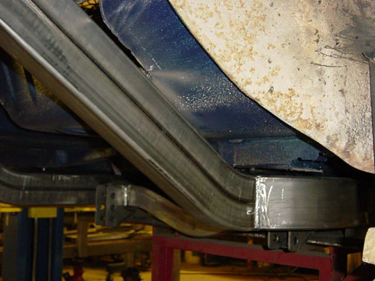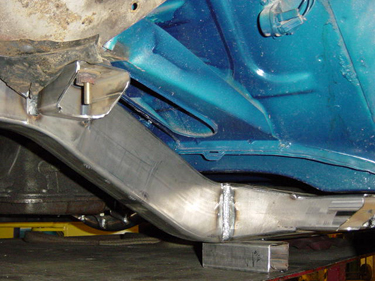 BELOW…..you can see, because of the frame being narrower than stock, that this body mount area will have to be modified…not so on the standard width model frame.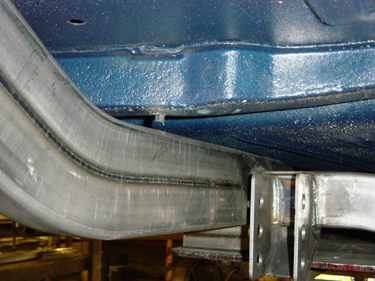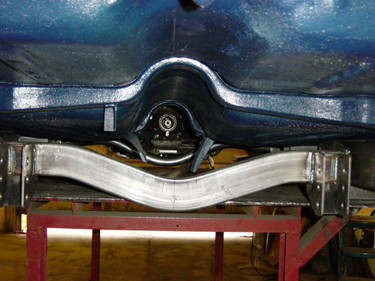 At AUTO WELD we always keep the exhaust in mind when designing the chassis. There is still ample room even though a typical ladder bar crossmember is being utilized. Over this crossmember and under the trans crossmember below.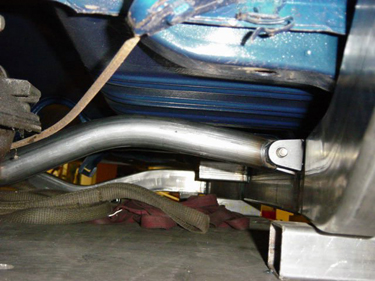 Notice how the trans crossmember hugs the floor for more exhaust clearance.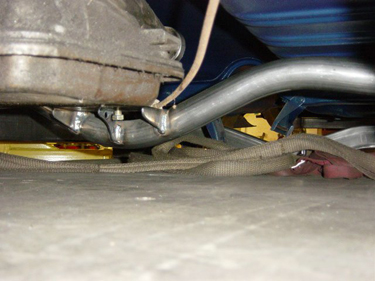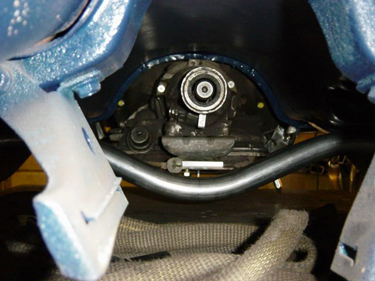 ABOVE…you will notice that the trans is very close to the pinch weld seam. This (at least) will have to be flattened….depending where you mount your motor and trans.
***
As you can see we at AUTO WELD make a very nice package for the 55-56-57 Chevys. As with all of our chassis, there are always options and variations. On this particular build, the frame was made a little narrower to get bigger meats on the back.
****
The purpose of this page is to show how well a typical body would fit to our chassis. The body being used was an unmodified body shell and had not been restored.