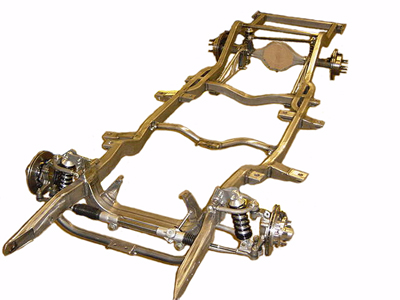 *55-56-57 CHEVY* (above)
***
*DRAG*CIRCLE TRACK*STREET ROD*PRO-STREET*
If you're looking for something a
little more specific, we're fully
equipped to bend frames to your
specifications. This page will
assist you, as well as us, in
meeting all of your needs. Take a
look and give us a call. We're more
than happy to give quotes, technical
assistance, or just plain advice!!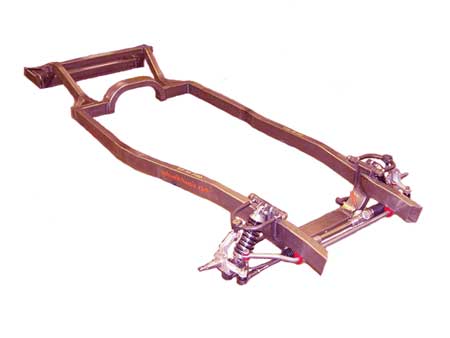 Example of one of our mandrel bent
chassis. It is a perimeter type
designed for a 37-40 Ford street
rod with all the usual stuff up front
but in the back is set up for a "Cobra
Mustang Independent" in which the
"suspension cradle" bolts right in
to the chassis
****
BELOW….This is an example of some of the complexity of some of our work.
S10 SHOWN below…
*****
This frame was shown on the hit
TV show "OVERHAULIN". An "AUTO WELD" full
roller chassis was used for the construction
of the "NAPA" truck. This same truck is shown in
detail in the MAY '06 issue of "SPORT TRUCK" magazine. Along with other builds in other magazines.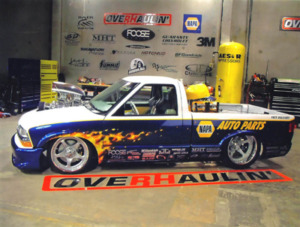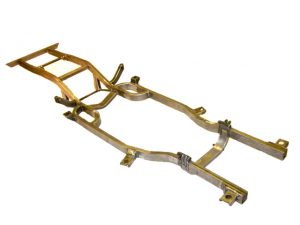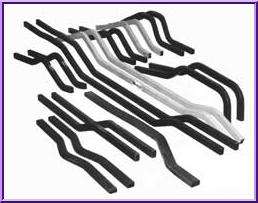 FRAMES*FRAMES*FRAMES*FRAMES
Our frame rails are made from
2x3x11ga. and 2x4x11ga. rectangular
steel tubing. We can bend from our
accumulated specs, or we can
bend from your specs. QUANTITY
DISCOUNTS available. Typical pricing
is as follows:
***AUTO WELD makes full length "bumper
to bumper" (one piece) rails
in "parallel" or "profile" fashion.
***
Custom bent full 2×4 "perimeter type" frame rails with an average price of
$1350-$1860 per pair.
***
Prices may vary depending on the length,
how complicated and the number of bends
of the rails that are to be bent.
***
Rear 2×3 frame rails: typical 4-link
or ladderbar and OEM type,
start for as little as $342.50pr.
***
Custom bent 2×3 rear rails start at $540.00 pr.
***
Custom bent 2×4 rear rails start at $680.00 pr.
***
All frame rails sold in pairs!
SHOW QUALITY BENDS…NO WRINKLES!
Call for best price.
***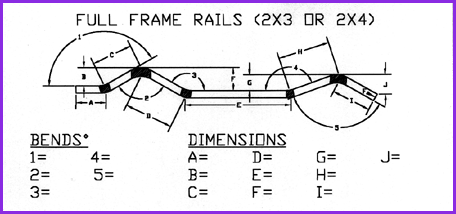 ***EXAMPLE OF SOME OF THE FRAME
RAILS WE MANUFACTURE***
***
*OTHERS AVAILABLE*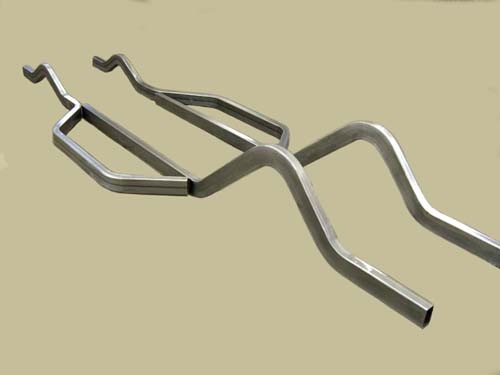 *CUSTOM PERIMETER FRAMES*
Made from mandrel bent 2×4 box steel
(above and below)