Ladder Bar Jig Welded Assembly

LADDER BAR REAR FRAME CLIP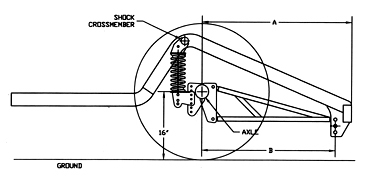 **TYPICAL SIDEVIEW OF REAR FRAME**
………..**Ladder Bar**……….
(Dimension "B")……(Dimension "A")
Competition.32″…………..33 7/8″
Competition.36″…………..37 7/8″
Pro-Street..33″…………..34 7/8″
*
The above drawing based on a 32″dia. tire
***
*LADDER BAR REAR FRAMES*
All of our frames are
welded in a special
fixture for accuracy.
The rails are 2x3x11ga
and 2x4x11ga mandrel
bent steel tubing with
smooth bends using our
"NO WRINKLE TECHNOLOGY".
And has the suspension
brackets pre-welded
for accuracy.
**
*NOTE*
ALSO AVAILABLE: FRAME with
"rear stubs" detached for easy
installation.
(see "Fairlane Project"
for installation of
these stubs)
***

2X3 WELDED REAR FRAME

Part#2035…Low as…$1127.95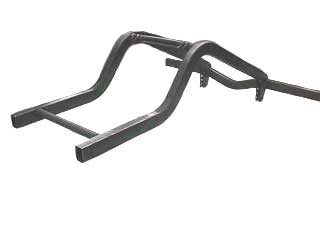 2X4 WELDED REAR FRAME
with "Oval" crossmember included

Part#2037…Low as…$1593.95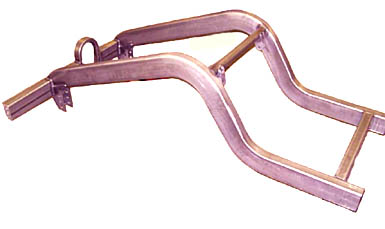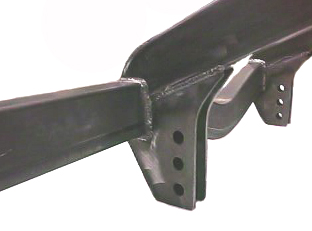 Maximum strength is built into all
of our products. Note the welded
area of the brackets. This creates
more strength in this area. Also
note the smooth bends in the tubing.
**
2×3 Competition clip (above)
**
2×4 Pro-Street clip (below)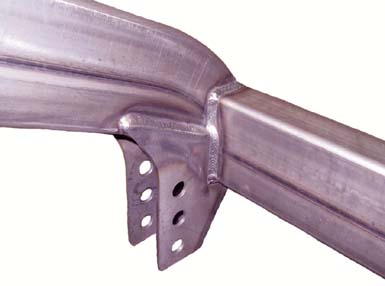 ****
*LADDER BAR REAR CLIPS*
Both 2×3 and 2×4
Fixture Welded !!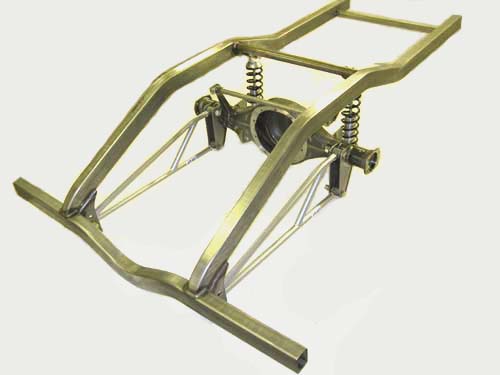 *NEW "GASSER" REAR CLIP*
above
***
FEATURES:
* 13″ Rocker panel height
when using 28″-29″ diameter tires!!
* Frame rails are extra long
in the rear of the frame. This
allows for moving the axle ahead
when building an "altered wheelbase".


Gasser…..$3411.00


Moser axles included !
INCLUDES:
* Jig welded frame member with all brackets fully welded
* Ladder bars (your choice)
* Series 7000 coilovers (your spring rate choice)
* Track locator
* Frame "connector" material(std.) and "rear stubs" (two piece rail…by request…
shown above)to complete your project
from the front frame rails to the rear bumper.
NOTE: You must specify spring rates!! Up to 250# per inch available
at no extra charge. Above 250#per inch must call for ordering and
pricing.
PRICES: discounted!!
* COMPETITION
(rear housing not included)


Part#2030……$1870.00


***
* PRO STREET
(rear housing not included)


Part#2031……$1881.00


***
*GASSER/ALTERED
(rear housing not included)


Part#new…….$1940.00


(SHOWN IN ABOVE PICTURE)* INCLUDING HOUSING… New thicker
and stronger fixture welded
aftermarket 9″ Ford
housing with 3 1/4″ x 1/4″ DOM steel
axle tubes, Moser axles, bearings,
long studs, retainers, and with all
brackets jig welded on housing!!
THIS ITEM IS DISCOUNTED!!!


COMPETITION Part#2033……$3340.00




PRO-STREET……………..$3352.00




GASSER/ALTERED………….$3410.00


**
COILOVER UPGRADE
using "Aldan" or "QA1" coilovers
(single adjustable)


Part#7065…………..$195.00




QA1 (single)add……..$215.00




Qa1 (double)add …….$355.00


**
OPTIONS:
Rear housing brace


Part#1030A……. $110


**
Fill and drain


Part#1005…….$68


**
*****NEW**
2X4 REAR FRAME CLIP
with "Oval" crossmember included


Part#2040..starting at…$3818.00


(as shown below)
**Shown with our famous
"Pro-Street" ladder bars**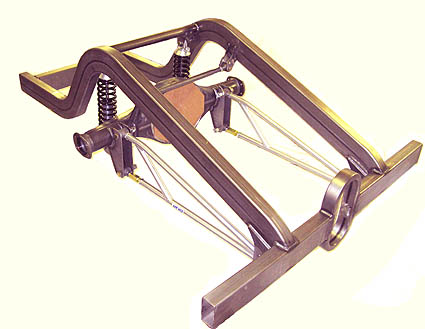 SMOOTH!!