MACHINED BUSHINGS AND SPACERS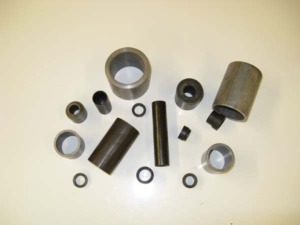 {SET OF: / APPLICATION}
{DESCRIPTION…$PRICE}
** SET OF 1 EACH/ STANDARD POLY ROD END
1.78 LONG X .815 DIA. X 5/8 HOLE
Part#8040…….$2.95
** SET OF 1 EACH/ STANDARD POLY ROD END
1.40 LONG X .75 DIA. X 1/2 HOLE
Part#8041…….$1.95
** SET OF 1 EACH/ STANDARD POLY ROD END
1.78 LONG X .75 DIA. X 1/2 HOLE
Part#8042…….$1.95
** SET OF 1 EACH/ STANDARD POLY ROD END
1.78 LONG X .815 DIA. X 1/2 HOLE
Part#8043…….$2.95
** SET OF 1 EACH/ STANDARD POLY ROD END
1.400 LONG X .750 DIA. X 5/8 HOLE
Part#8044…….1.95
** SET OF 8/ 3/4 ROD END TO 1/2 HOLE SLEEVE
.860 LONG X .747 GROUND DIA. X 1/2 HOLE
Part#8045…….$24.00
** SET OF 8/ 3/4 ROD END TO 5/8 HOLE SLEEVE
.860 LONG X .747 GROUND DIA. X 5/8 HOLE
Part#8046…….$24.00
** SET OF 2/ PRO STREET LADDER BAR OUTER SLEEVE
1.450 LONG X 2.250 DIA. X 1.750 HOLE
Part#8047…….$44.50
** SET OF 2/ PRO STREET LADDER BAR INNER SLEEVE
2.00 LONG X 1.0 DIA. X 3/4 HOLE
Part#8048…….$19.00
** SET OF 4/ CONTROL ARM SPACER
.320 LONG X 1-3/8 DIA. X 5/8 HOLE
Part#8049…….$29.50
** SET OF 4/ CONTROL ARM SPACER
.320 LONG X 1-3/8 DIA. X 1/2 HOLE
Part#8050…….$29.50
** SET OF 2/ MUSTANG "BOLT-IN " INNER SLEEVE
2.400 LONG X 1.0 DIA. X 15/32 HOLE
Part#8051…….$19.00
** SET OF 2/ GM "BOLT-IN" INNER SLEEVE
2.400 LONG X 1.0 DIA. X 1/2 HOLE
Part#8052…….$19.00
** SET OF 4/ SUPER STANG 8.8 BOTTOM LINK SPACER
.815 LONG X 1-3/8 DIA. X 5/8 HOLE
Part#8053…….$32.50
** SET OF 4/ SUPER STANG 9 BOTTOM LINK SPACER
1.050 LONG X 1-3/8 DIA. X 5/8 HOLE
Part#8054…….$33.75
** SET OF 4/ BALL JOINT SPACER
.380 LONG X 1.0 DIA. X 5/8 HOLE
Part#8055…….$7.80
** SET OF 1 EACH/ POLY OUTER SLEEVE
1.430 LONG X 1-3/8 DIA
Part#8056……..$3.80


** SET OF 1 EACH/ POLY OUTER SLEEVE
1.06 LONG X 1-3/8 DIA
Part#8057….$3.80
** SET OF 2/ COILOVER SHOCK SPACER
1-1/4 LONG X 1-3/8 DIA. X 5/8 HOLE
Part#8058…….$15.50
** SET OF 2/ RACK & PINION THREADED MOUNT BUNG
1.0 LONG X 1-3/8 DIA. X 5/8 THREAD
Part#8059…….$29.50
** SET OF 2/ SUSPENSION LINK HOLE REDUCER
2.415 LONG X 5/8 DIA. X 1/2 HOLE
Part#8060…….$12.50
** SET OF 2/ COILOVER WELD-IN BUNG
2.25 LONG X 7/8 DIA. X 5/8 HOLE
Part#8061…….$8.50
** SET OF 2/ SERIES 7000 COILOVER LOWER SLEEVE
1.450 LONG X 5/8 DIA. X 1/2 HOLE
Part#8062…….$5.50
** SET OF 4/ SERIES 7000 COILOVER LOWER SPACER
.215 LONG X 3/4 DIA. X 1/2 HOLE
Part#8063…….$5.50
** SET OF 16/ 4-LINK ROD END SPACER FOR REPLACING,
POLY ROD ENDS WITH CHROMOLY ROD ENDS.
5/8 X 3/4 HD ROD END TO WIDTH OF 1-3/4
BETWEEN BRACKETS
Part#8064…….$47.50
** SET OF 8/ ALIGNMENT BUSHING FOR REPLACING POLY
ROD END TO 1/2″ ROD END (1-3/8 BETW. BRACKETS).
.387 LONG X 3/4 DIA. X 1/2 HOLE
Part#8065…….$19.75
** SET OF 4/ ALIGNMENT BUSHING FOR USE WITH 1/2″
WIDE ROD EYE ON COILOVER (1-3/8 BETW. BRACKETS).
.425 LONG X 3/4 DIA. X 1/2 HOLE
Part#8066…….$10.75
** SET OF 4/ ALIGNMENT BUSHING FOR USE WITH WIDE
COILOVER ROD EYE (1-3/8 BETW. BRACKETS).
.295 LONG X 3/4 DIA. X 1/2 HOLE
Part#8067…….$10.75
** SET OF 16/ 4-LINK STEP BUSHING 3/4 TO 5/8 HOLE
(1-1/2 BETW. BRACKETS)
Part#8068…….$32.50
** SET OF 16/ 4-LINK STEP BUSHING 3/4 TO 5/8 HOLE
(1-3/4 BETW. BRACKETS)
Part#8069…….$49.95
POLYURETHANE WELD-ON BUSHING SET: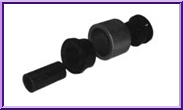 INCLUDES:
(2) POLYURETHANE BUSHING HALVES, (1) INNER
SLEEVE (TAKES 3/4 BOLT), (1) HEAVY DUTY
OUTER SLEEVE. 2″ X 3/4″ HOLE.
NOTE:
CAN BE USED FOR CUSTOM APPLICATIONS.
SOLD IN SETS OF ONE (ENOUGH TO DO
ONE LADDER BAR. THIS IS THE SAME
SETUP USED ON OUR PRO STREET
LADDER BARS!!
** WELD-ON BUSHING KIT
Part#8070…….$49.95