For All Cars and Trucks and Front-Wheel Drive



WITH MORE "OPTIONS" THAN ANY
OTHER COMPANY!!
…..PLUS OUR ROLL CAGE "FIT" IS SECOND TO NONE!! THAT'S WHY CUSTOMERS KEEP COMING BACK!!
***
****NOTE****
All of our roll cage kits are made
a little LONG at the floor side (or open
end) of each tube. This gives
the installer some latitude so a
perfect fit is obtainable
for the shorter or taller drivers.
*****NOTE****
Prenotching is a $20 option.
We only prenotch up
to 8 point "roll bars" for
most applications. You
will have to do some fitting &
notching for "roll cages" to get
the best fit for the size
of the driver! Typically the
"Roof Hoop/Halo" and "A-pillar"
bars are not prefit!
*DIFFERENT RB & RC PRODUCTS (on this page)*FUNNY CAR ADD-ON (on this page)
*ROLL BAR/CAGE SAFETY ITEMS (on this page)
**WE HAVE MORE RB AND RC OPTIONS (CLICK HERE)**

Our Roll Bars and Roll Cages are made from the
finest hi-quality steel and are dimensionally
correct for NHRA and IHRA specs. They come
standard with tubing bent to fit perfectly for
each specific vehicle and model. And there are tons of applications to choose from!! ( Check out our product list) All necessary braces and floor plates are included!

SPECIFICATIONS:
4,6,8pnt-Roll Bars are made from
1-3/4″ OD x .134 wall ERW tubing
**
10,12,14pnt&up-Roll Cages are made from
1-5/8″ OD x .134 wall ERW tubing
**
-4130 Chromoly roll bars and cages
are made from 1 3/4″ OD and
1 5/8″ OD x .083 wall tubing respectively.
***
-DOM 1 5/8″ OD and 1 3/4″ x .120 wall
("drawn over mandrel")..mild
steel tubing available..
call for pricing.
***
NOTE: Chromoly tubing does NOT have a
chrome finish!
At AUTO WELD, as with most of our products,
roll bars and cages are manufactured in-house to assure the best of quality. Shown below are just some of our roll bar hoops.

Example: This is how our Mustang
Convertible roll bar rear braces are
installed. Pictured a 1998 Cobra
Mustang.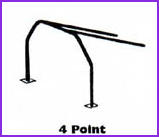 *4 Point Roll Bar…
(Most cars)…$298.50
**
(Most trucks)…$318.50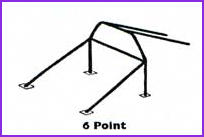 *6 Point Roll Bar…
(Most cars)…$363.50
**
(Most trucks)…$397.50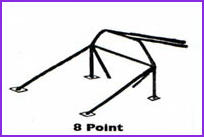 *8 Point Roll Bar…
(Most cars)…$388.50
**
(Most trucks)…$427.50


*10 Point Roll Cage…
$$Save-discounted!
(Most cars)…$519.50
**
(Most trucks)…$571.50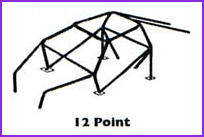 *12 Point Roll Cage…
$$Save-discounted!
(Most cars)…$616.50
**
(Most trucks)…$673.50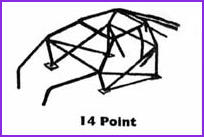 *14 Point Roll Cage…
$$Save-discounted!!
(Most cars)…$690.50
***
(Most Trucks)….$754.50
**
NOTE: With the 14pnt…
a rear "X" brace is added
to the 12pnt roll cage as
shown.
**
Additional options shown above:
*Door (x) braces
*Helmet bar
*Rocker bar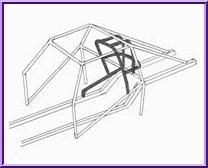 Two types offered:
**
#6300, 6300CM/upper
**
#6301, 6301CM /lower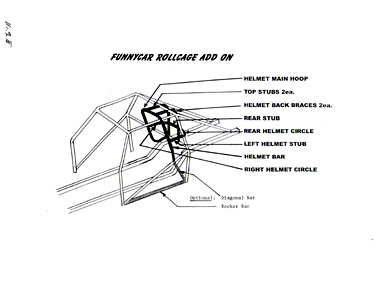 Includes:
-Helmet Main Loop
-Top Stubs (2 ea.)
-Helmet Back Braces (2 ea.)
-Rear Stub
-Rear Helmet Circle
-Left Helmet Stub
-Helmet Bar
-Right Helmet Circle
-Inside side bar (#6300)…
or… Wrap around helmet main
hoop…(#6301)
**PART#6300&6301…MILD STEEL..$264.95
**PART#6300CM&6301CM…CHROMOLY….$398.95
**NOTE: #6300,#6300CM Inside side
bar attaches to seat brace
and right frame rail. **
**NOTE: #6301, #6301CM
the main bar turns back and
attaches to the seat brace instead
of going to the right side
bar/frame rail.
**ABOVE**
…THREE WAYS TO ATTACH A ROLLCAGE
*PLATES & 2×3&2×4 OUTRIGGERS*
***
UNI-BODY CARS AND TRUCKS… 6″x6″
square plates are used and
"included standard" in roll bar
and roll cage kits.
***
FULL FRAME CARS AND TRUCKS
In cases where the main hoop is wider
than the frame (such as pickups) an
"Outrigger kit" is available below.
Used when installing a roll cage
or roll bar when the bottom of the
cage is wider than the frame…such
as a pickup truck.
*Consists of 4 pieces of 2x4x11ga
or 2x3x11ga box steel and 4 flat
pieces of steel to cap off the
ends. Cut at different lengths
for different vehicles!
Outriggers are welded to the sides
of the frame. These act as a
support for the roll cage.
(must specify when ordering)…$29.00
***
Note: "Full Frame" cars such as
1987 Monte Carlo…no plates are
provided. Cage is designed to weld
directly to the OE frame.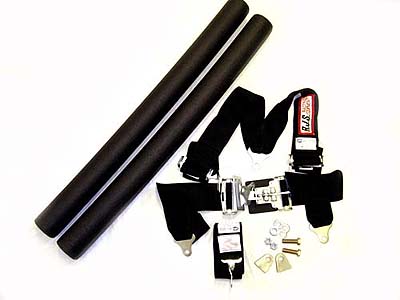 INCLUDES:
-5 pt. harness
-2 pcs. roll bar padding
-2 mounting tabs
-2 grade 8 bolts & lock nuts
PART#6501…ROLL BAR SAFETY KIT…$94.95

 
NOTE: Required when installing a 6 or 8
point roll bar.
Standard colors are RED, BLUE, or BLACK!!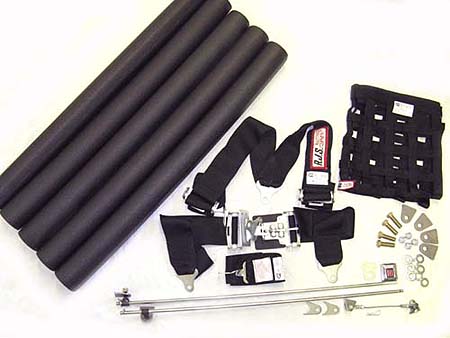 INCLUDES:
-5 pt. Harness
-5 pcs. roll bar padding
-1 window net
-1 window "Deluxe" installation
kit (quick release)(shown below)
-4 mounting tabs
-4 grade 8 bolts and lock nuts
PART#6500…ROLL CAGE SAFETY KIT…$199.95

 
NOTE: Required when installing a roll cage
10 pt and up.
Standard colors are RED, BLUE, or BLACK

OPTIONS/SEPARATELY
**PART#6505..5 POINT HARNESS only…$86.00
**
**PART#6506..ROLL BAR PADDING (3sections)…$15.00
**
**PART#6520..WINDOW NET…$32.00
**
**PART#6521..DELUXE WINDOW
NET INSTALLATION KIT
(description below) $63.00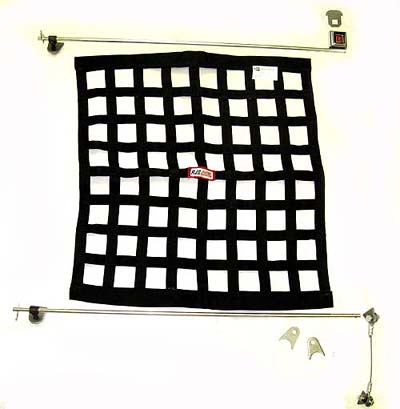 Part#6521 (above picture)
is the slickest window
net mounting kit. It has 2 swivels
which allows a "one hand hook up"
while sitting in the car. The swivels
and cable let the window net
drop down behind the side bar
allowing the driver to get in
without the window net mechanism
getting in the way.
Does not include the window net.
***ROLL CAGE APPLICATION LIST***
Always adding!!!!!!!!
GM***FORD***CHRYSLER***IMPORTS
STREET ROD***PICKUPS
****
31 CHEVY 5-WINDOW COUPE
36-38 CHEVY, PONTIAC, BUICK, COUPE
36-39 CHEVY, PONTIAC, BUICK, 4-DOOR
34-35 CHEVY 3-WINDOW COUPE CHOP
40-41 CHEVY COUPE
62-63 PONTIAC, TEMPEST
65 PONTIAC GTO
96 GRAND AM
67-69 CAMARO, FIREBIRD
67-69 CAMARO, FIREBIRD CONVERTIBLE
70-81 CAMARO, FIREBIRD
82-92 CAMARO, FIREBIRD
82-93 CAMARO, FIREBIRD CONVERTIBLE
94-2002 CAMARO, FIREBIRD
62-64 NOVA, CHEVY II
66-67 NOVA, CHEVY II
68-72 NOVA, CHEVY II
64-67 CHEVELLE
64-67 LEMANS,GTO
68-72 CHEVELLE. GTO, SKYLARK
62-64 CHEVY IMPALA BISCAYNE HARD TOP
62-64 CHEVY IMPALA BISCAYNE POST
55-57 CHEVY BELAIR
58-60 CHEVY BELAIR
65-69 CHEVY CAPRICE, IMPALA
70-72 MONTE CARLO
76-80 CHEVETTE
78-88 MONTE CARLO
78-80 MONZA
77-80 VEGA, ASTRE
84-88 CELEBRITY
84-88 PONTIAC CALAIS
95-97 CHEVY CAVALIER
89-UP CHEVY CAVALIER
92 CHEVY CELEBRITY/CUTLASS/CIERRA
53-55 CORVETTE
58-62 CORVETTE
63-67 CORVETTE
68-83 CORVETTE
84-96 CORVETTE
88-90 CAVALIER
87-90 BERETTA
95 PONTIAC GRAND AM
61-67 CHEVY PICKUP
68-72 CHEVY PICKUP
73-87 CHEVY PICKUP
88-97 CHEVY PICKUP
72-80 LUV PICKUP
UP TO 92 S10 PICKUP
94-2003 S-10 PICKUP
58-59 CHEVY APACHE PICKUP
——————–
******
55-56 FORD
57-59 FORD
60 GALAXY
64-66 MUSTANG COUPE
64-66 MUSTANG FASTBACK
67-68 MUSTANG
64-68 MUSTANG CONVERTIBLE
69-70 MUSTANG
69-70 MUSTANG CONVERTIBLE
71-73 MUSTANG
71-73 MUSTANG CONVERTIBLE
74-78 MUSTANG II
79-96 MUSTANG
79-96 MUSTANG CONVERTIBLE
87-93 MUSTANG
87-93 MUSTANG CONVERTIBLE
94-2004 MUSTANG
94-2004 MUSTANG CONVERTIBLE
71-80 PINTO
70-74 MAVERICK
84-88 THUNDERBIRD, COUGAR
67-70 COUGAR
80 FAIRMONT
68-72 TORINO
60-70 FALCON
60-70 FALCON CONVERTIBLE
64 FAIRLANE
66-67 FAIRLANE
63 COMET
27 MODEL "T"
28-31 MODEL "A" 5-WINDOW COUPE
32 FORD COUPE
34 FORD PICKUP
35-36 FORD COUPE
39-46 FORD PICKUP 3-WINDOW
47 FORD COUPE
49-52 FORD PICKUP
53-55 FORD PICKUP
61-66 FORD PICKUP
67-72 FORD PICKUP
73-93 FORD PICKUP
88 ESCORT GT
66-77 FORD BRONCO
80-83 FORD BRONCO II
82-99 RANGER
82-93 FORD PICKUP
60-70 RANCHERO
2000 FORD LIGHTENING
——————–
******
47-48 PLYMOUTH COUPE
65-66 BARRACUDA
67-69 BARRACUDA
70-74 CUDA, CHALLENGER
68-72 DART
70-74 DUSTER, DART SPORT
65 PLYMOUTH SATELLITE
69-70 B-BODY ROADRUNNER, CHARGER
71-73 ROADRUNNER, CHARGER
77-80 PLYMOUTH ARROW
78-80 VOLARE, ASPEN
78-81 DIPLOMATE, LEBARON
87-88 LEBARON COUPE 2-DOOR
80 CHALLENGER, SHAPORO
87-92 DAYTONA, LASER, SHELBY
85-88 HORIZON 4-DOOR
61-72 DODGE PICKUP
72-87 DODGE PICKUP
87-96 DAKOTA PICKUP
05-07 DAKOTA PICKUP
79-88 D50 PICKUP
73-74 AMC JAVELIN
80-81 AMC EAGLE, SPIRIT
CJ5-CJ7 JEEP
95-up NEON
67 AMC RAMBLER AMERICAN
——————–
******
33 WILLYS
40-41 WILLYS
48-50 ANGLIA
50-53 STUDEBAKER CHAMPION
53-58 STUDEBAKER
KAISER HENRY "J"
53-62 NASH METROPOLITON
***
———————
******
90-99 MITSUBISHI ECLIPSE,TALON
86 MITSUBISHI CONQUEST, STARION
95 MITSUBISHI MIRAGE
91 NISSAN MAXIMA
90-96 NISSAN 300ZX
90-UP NISSAN 240 SX CONVERTIBLE
90-UP NISSAN 240 SX
88-92 MAZDA RX7
97-UP MAZDA PROTEGE
89 MAZDA B2000 PICKUP
MAZDA "MIATA" (6pnt only)
70 TRIUMPH TR6
94-01 ACURA INTEGRA
86-93 HONDA CIVIC 3 DOOR
59-70 BEETLE BUG, SUPER
79-86 RABBIT, GOLF, OX, GT
79-86 RABBIT CONVERTIBLE
80-81 SUBARU BRAT "IN-BOX"
00-02 SUBARU WRX, IMPREZA
92-UP SUBARU SVX
89 BMW 325
06 SCION XA
95-UP TOYOTA CAMRY
03 KIA RIO
———————-
******
CHEETA "KIT CAR"
If you don't see your application
listed..chances are we can still do it for you!!!!!!!