***NEW "HENRY J" OEM TYPE CHASSIS***
Designed to the same shape as the original to fit the original bottom of the car.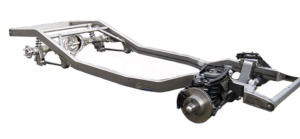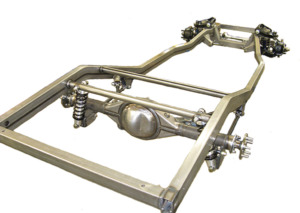 ***
**NEW**
MONZA / VEGA TORQUE ARM REAR
W/TORQUE ARM MOUNT
9″ FORD Bolt-in
***
For more information
*CLICK HERE*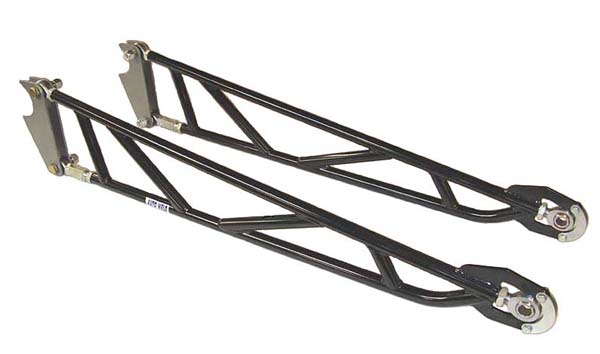 ***
*NEW*
"FULL LENGTH" FRAME RAILS
*CLICK HERE!!*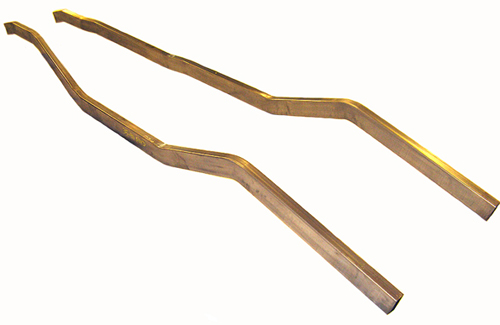 ***NEW***
"GASSER-ALTERED WHEELBASE"
Ladder Bar rear clip
Features: a fixture-welded
frame that is "extra long"
in the rear so the
wheelbase can be altered.
Enables the use of the shorter
28″-29″ tall tires with the rocker
panel about 13″ off the ground
for that '60s look.
**
Included in the kit is the welded frame,
our Pro-Street ladder bars,
Series 7000 coilovers (std),
adjustable mounts, new 9″ Ford
rear housing, Moser axles
w/BSR pkg.,panhard bar track
locator, all hardware, and frame
connector material.
**
Gasser Ladder bar clip
with no H&A pkg…..$1870.00
Gasser ladder bar clip
with 9″ Ford ,Moser axles,
and BSR pkg……..$3481.00
****
Aldan coilover upgrade …$195
***
Shown below

***
***
NEW 2X4 FLAT MANDREL BENT
FRONT CROSSMEMBER AND
SUSPENSION.
(shown below)
"Features" include:
*New fully welded crossmember.
*Tubular upper and
lower A-arms.
*Rack and pinion steering
(Flaming River).
*(Aldans) or (QA1) coilovers.
*Coilover mounts.
*New (Mustang II) spindles
*2″ Drop spindles (optional)
*Several popular widths available.
57″ HUB TO HUB standard width
***
Starting at……$3350.50
***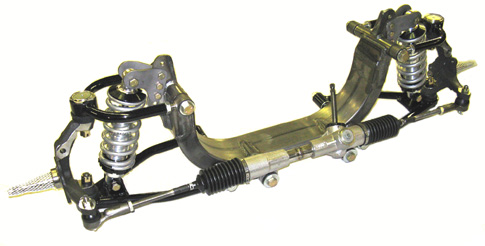 ***NEW**
We are now offering mandrel bent
2×4 fixture welded rear clips.
They are offered in the popular
"Extreme competition" 4-links ,
the "Ultimate II" 4-links,and the
"Ladder bar"…both "Pro-Street" and
the " Full Competition" versions.
**
"Ultimate II" shown below
***
CLICK HERE TO FIND OUT MORE
***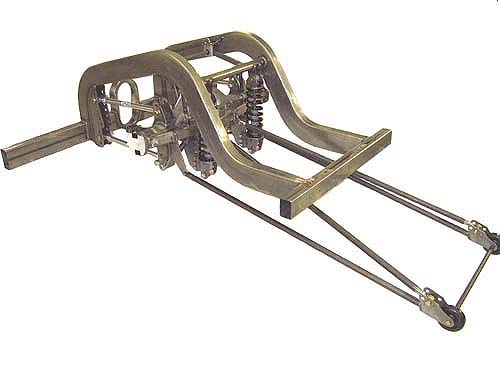 ***NEW***
*55-56-57 CHEVY Chassis*
Features a mandrel bent 2x4x11ga fixture welded frame, 4-link suspension,"Aldan" coilovers all around, 9″ Ford housing, "Moser" axles, "Wilwood" vented disc brakes… front and rear, "Flaming River" rack and pinion steering, tubular upper and lower A-arms, and spindles (regular or dropped).
***
Enhanced design for rigidity and front geometry. Has a five degree positive caster, good anti-dive, and zero bumpsteer.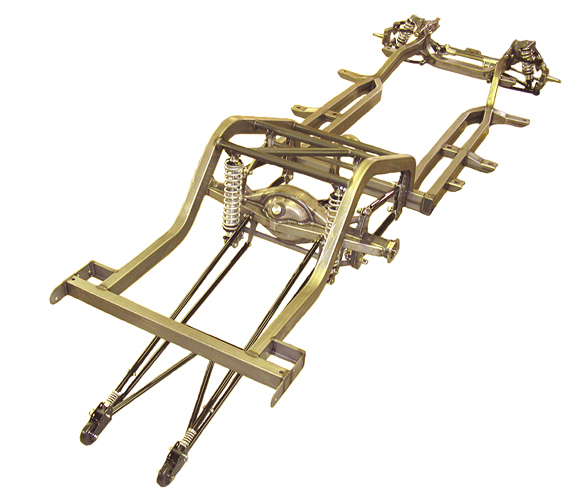 *55-56-57 4-link chassis shown*




***




Also available with Triangulated 4-bar




in the standard width rear frame.




***




Rollers start at $13,150 like the one shown


(CLICK HERE FOR MORE INFO!)
****
NEW "Perimeter" formed 2×4 mandrel




bent frames and chassis. Below are




examples of our new formed chassis




and coilover front suspension.


***
(CLICK HERE FOR MORE INFO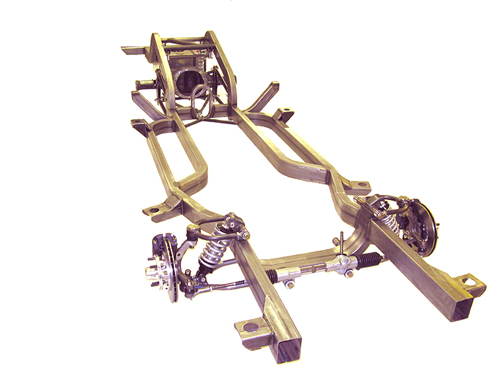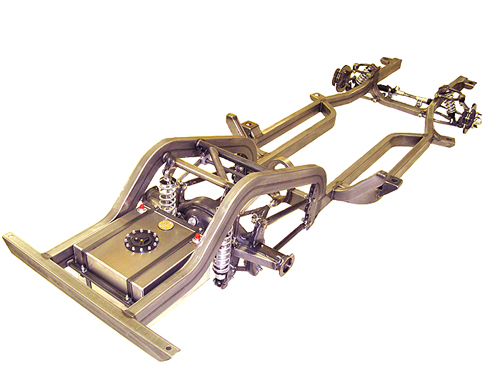 *S10 4-link chassis (shown above)*


—————————



"FOOSE/NAPA" S10 Chevy Pickup Chassis




(Shown below)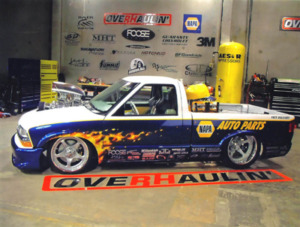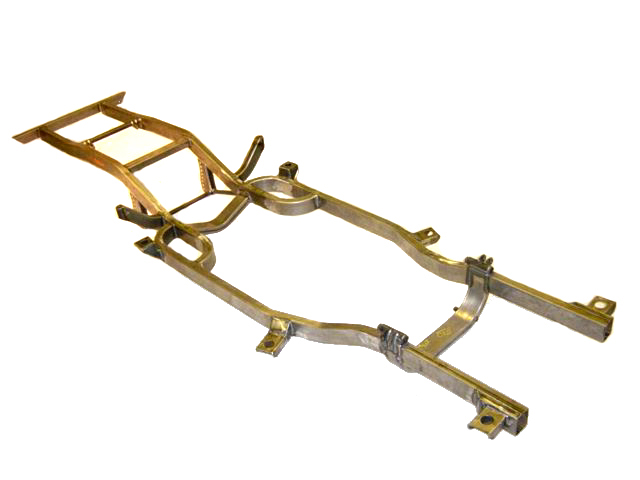 S10 "DREAM CHASSIS".




This new design, used by "Foose" for




the NAPA truck build on "OVERHAULIN",




low-slung chassis features an all




coilover suspension, tubular a-arms,




4-link rear suspension, rack and pinion




steering, more header room, and of




course a lighter weight.




***




This chassis can be purchased in various




stages. Just lift your body off of your




S10 and bolt onto the new Auto Weld




chassis. The frame is already Pro-Street-ed




on the standard model and will accept




18.5 Mickeys. If you have a special




application, give us a call.




Prices start for a basic 2×4 mandrel




bent "perimeter type frame" (frame only)




as shown for as little as $8199.00




less suspension.


****


The same chassis outfitted with




suspension including our tubular




a-arms,rack and pinion steering,




spindles,"Aldan" coilovers,




4-link parts,track locator,




9″ ford housing, "Moser" axles,




Wilwood brakes…




(a basic roller)…starts at $14,150.00




**********

*BELOW*
New "FEATHERWEIGHT" weld-in
2×3 chassis is now available
for S10 and Ranger pickups,
made for Pro-Street and
Drag racing.
———————
'79-'93 Mustang
ANTI-ROLLBAR/COILOVER COMBO



This is the neatest setup
for the "Shoot-Out" Mustang
classes that allow coilover
conversions. You get a
"hold-and-weld" crossmember
with all the mounts located
for easy and fast construction
time, an anti-rollbar that is
an actual 3/4″ torsion bar, not a
piece of pipe as with some other
manufacturers, "Aldan" or "QA1″
racing coilovers, single or
double adjustable features, and
the lower 6" ajustable coilover
mount,140# springs (std), all for
a competitive price.
***
With Aldan "single adjustable"
coilovers,discounted
Part#12105..base price..$1025.85
***
With QA1(single adjustable)
add to base price..$20.00
***
With Aldan "double adjustable"
coilovers,discounted
Part#12106…… $1174.75
***
With QA1 (double adjustable)
add to base price…….$160.00
***
Note: Although this unit is designed for
added performance and can be used for
street as well.
Some minor sheet metal work is required at the
spare tire well. If not using a fuel cell, the stock gas tank will need modified.
***
Please note:
This anti-roll bar is a 3/4″ x 21″
real splined "6150" steel torsion
bar (not 4130 steel)!!
Although we have had great
success with this setup, and works
very well in most Drag racing
and street applications, it MAY NOT be
desirable for every situation
or on the very Hi-horsepower,
very hard reacting suspensions.
So we now have a larger 1″ x 21″
6150 steel shaft available for
high horsepower race cars.
Crossmember only,
Part# 12100…..$202.50
**
3/4″x21″ Anti-roll bar kit
Part#7351…….$320.85
**
(#12100 and #7351) Anti-roll
bar and crossmember combo
Part#12107…….492.85
**
Lower coilover mount
6″ adjustable
Part#7214……..$85.95
**
Anti-Roll Bar/Coilover Combo
(minus coilovers)
Part#12108…….$583.50
**
Anti-Roll Bar/Coilover Combo
(minus anti-roll bar)
this is with Adans single
adjustable coilovers (Base)
Part#12109…….$766.50
**
**CURRENTLY**
WE ARE NOW OFFERING A
NEW 1″ DIAMETER ANTI-ROLL BAR
for an additional $145.00 to kit pricing
——————-
***
If you already have a 3/4 shaft in
your car…we now offer a kit to
change out the parts for the larger
1″ size shaft and arms.
Upgrade kit costs $195.95
——————-
Kit consists of a 1″ splined shaft,
two new steel arms, and space age
plastic bushings. Everything else you
will use over and don't have to change.
***
'48-'52 ANGLIA
Chassis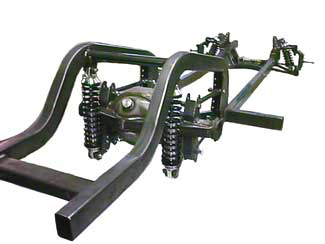 This "NEW" Anglia chassis is now
available. It includes a new (47″ hub to hub)
front suspension designed for cars
that are very narrow between the front
wheels. Rear suspension is a typical
4-link designed to make more driver
room, but is well able to supply the needed
traction for hi-horsepower situations.
It is available in Pro-Street and Full
Competition configurations.All
items shown including: dropped
spindles, narrowed rack,
all Aldan coilovers,QA1 additional,
tubular a-arms, New 9″ ford housing,
with 3 1/4″x1/4″ DOM steel axle tubes
4-link, wishbone track locator,
and full length mandrel bent
(NO-WRINKLE) jig welded frame is standard.
Pro-Street chassis shown has a modest price.
***
Width in rear is determined by: width
of the rear fenders, and your wheel
and tire sizes.
***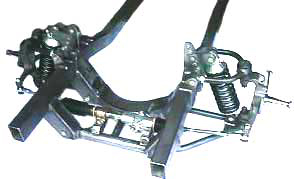 '48-'52 ANGLIA chassis
Complete as shown..$8598.80
***
"Moser" race axles and "Wilwood" brakes
available for an additional price.
***
"S10 CHEVY"
2X4 REAR FRAME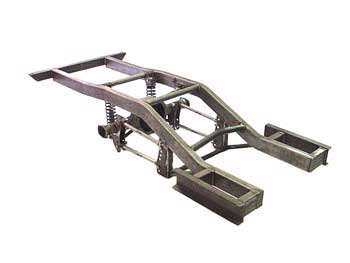 NEW S10 Truck Rear Clip (above)
Features mandrel "no wrinkle" bent
frame rails made from 2x4x11ga box steel.
**
4-Link version, w/o housing
Part#3550…….$2367.50
**
Ladder bar version,w/o housing
Part#3560…….$2283.50
**
New jig welded 9″ Ford housing
available with kit(discounted)
Part#3570…….$999.00
**
*Comes standard with Series 7000 coilovers.
**
Other options available:
Housing brace
Part#1030A……. $110
**
Fill and Drain
Part#1005……. $68
**
Aldan (Single adjust)
coilovers upgrade
Part#7065……. $195
**
QA1 (single adjust) add…$215
***
Jig welded frame w/mounts:
4-link type
Part#3555…….$1652.95
**
Ladder bar type
Part#3565…….$1605.95
***


"New" 2×3 "Competition 4-link" rear




clips now available for a "LOW STANCE"!!




"SLIDE-IN-AND-WELD"




SHOWN BELOW)




***




CLICK HERE FOR MORE INFO!!

*S10 DREAM CHASSIS*
Rear section designed like
our rear clips…to stay
under the box floor.
…Shown below.."HENRY J" Dream Chassis "CLICK HERE"

FULL CHASSIS
*Click Here*
for tips on installation
***"FEATHERWEIGHT CHASSIS"***
AUTO WELD can build you a rolling chassis
and in many variations for "cars",
even for "mini trucks" . Shown below
is our "Featherweight" chassis
using our Competition 4-link rear
suspension clip and complete
front suspension clip. Options included
are; "ALDAN" racing coilover update,
"QA1" coilover optional (pricing
shown below) 4-link
tubes, wishbone track locator, housing
brace, fill and drain option,
and front Wilwood racing brakes.
***
$8550.00 as shown..(less rear Wilwood brakes)
***
Wilwood rear brakes..starting at $578.49
***
An "Ultimate II"(Pro Street) full chassis
version is also available.
**
COILOVER UPGRADES
Aldan (double adjust) add…$125.00pr
QA1 (single adjust) add…..$20.00pr
QA1 (double adjust) add…..$235.00pr

**OTHER OPTIONS SHOWN**
***
*K-FRAME Wheelie bars
*ANTI-ROLL BAR
*OVAL Crossmember w/ exhaust holes
These frames are beautifully built
by professionals. The bends on the frame are of
show quality! And best of all. OUR CHASSIS WORK!!
YOU WANT THE BEST..HERE IT IS!
The chassis that is shown is made
from 2x3x11ga. box steel tubing for
use with a roll cage.
PRICE FOR FULL "weld-in" 2X3 CHASSIS
STARTS AT….$8550.00
*****************************
ALSO AVAILABLE
PRICE FOR FULL.."weld-in 2X4 CHASSIS
includes "oval" crossmember
STARTS AT….$9710.00
*****
(NEW basic 2×4 frame only, shown below!)
***
WE MAKE CHASSIS FOR ANY CAR OR TRUCK
or "MINI" TRUCK!!